Linda Luong, MD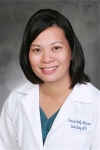 Dr. Linda Luong is board certified in Family Medicine. She has courtesy hospital privileges at Winchester Medical Center. Dr. Luong completed her undergraduate degree at Virginia Tech and received her Medical Degree from the Medical College of Virginia. She finished her Family Practice Residency at Brown University in 2002.
After residency Dr. Luong worked as a staff physician with Cambridge Hospital in Cambridge, MA. During this time she also served as a clinical instructor for Harvard Medical School. Dr. Luong then completed a fellowship in Research and Academics at Boston University. During the fellowship she served as an Assistant Professor in the Department of Family Medicine. For several years she also worked part time for MIT Medical's Urgent Care department.
Her special interests include women's health, pediatrics/adolescent care, and minor surgical procedures
Her parents, 7 siblings, and 15 nieces and nephews all live in Virginia. She enjoys spending time with her family and giving lots of hugs and kisses to her son and daughter.
Rebekah Payne, PA-C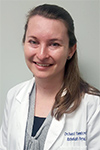 Rebekah Payne graduated from Shenandoah University's Physician Assistant Program in 2015, with a focus on primary care and family medicine. She completed her undergraduate degree in Chemistry and Biology at Alderson-Broaddus College, in Philippi, WV. Her special interests include preventative medicine, women's health, chronic disease management, and minor surgical procedures.
Rebekah is a lifelong resident of West Virginia. She enjoys spending time with her husband, Jim, and the two of them enjoy hiking, camping and outdoor activities. She is very excited for the opportunity to join Orchard Family Medicine.
Randi Wagner, PA-C
Randi Wagner is a board certified physician assistant. She completed her undergraduate degree in Nutrition & Dietetics at the University of the District of Columbia. She then earned a Master of Science in Physician Assistant Studies from Shenandoah University. Before embarking on a career in medicine, she served in the Marine Corps for 10 years. Her special interests include minor surgical procedures, weight management and advance care planning.
Randi is originally from western New York but now calls Virginia home. She enjoys traveling the world, exploring food & wine, gardening and outdoor activities.